U.K. PM Bows to Pressure to Spell out 'Brexit Plan' Details*
By Jon Stone
Theresa May has pledged to release a Brexit "white paper" to spell out the Government's plans for Britain outside the E.U.
Ms May was responding to calls by potential Conservative rebels and Labour to give more detail on what she wanted the U.K. to look like after it left the E.U.
"I have been clear, as have senior ministers, that we will ensure that Parliament has every opportunity to provide that scrutiny on this issue as we go through this process," she told the House of Commons at Prime Minister's Questions.

"I set out that bold plan for a global Britain last week and I recognise there is an appetite in this House to see that plan set out in a white paper … I can confirm that our plan will be set out in a white paper published in this House."
Ms May would not say when the white paper would be published when she was asked by Labour leader Jeremy Corbyn.
The Prime Minister has pledged to trigger Article 50 by the end of March, starting the negotiating process.
The Government has previously said explaining its negotiating position to MPs in detail would put it at a disadvantage.
Rumours of a rebellion by pro-E.U. Conservative MPs and calls by Labour for a white paper however appear to have pushed the Government to take further action.
Issues still to be established include the nature of any new immigration controls and the extent of free trade with the E.U. and other trading blocs.
Ms May gave a broad outline of her approach in a speech last week. She ruled out single market membership and retention of the European Court of Justice.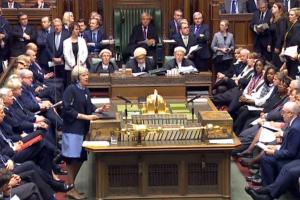 The Supreme Court ruled on Tuesday that MPs must be given a vote in order to trigger Article 50. A bill is expected to be introduced by the Government as early as this week.
Keir Starmer, Labour's Shadow Secretary of State for Exiting the European Union, commenting on the Government's announcement that they will publish a White Paper, said:
"This is a significant and welcome U-turn from the Prime Minister.

"Labour has repeatedly called for the Government to publish a plan for Brexit before Article 50 is triggered and we made clear Labour would table amendments on this to the Article 50 Bill.

"This U-turn comes just 24 hours after David Davis seemed to rule out a White Paper, and failed to answer repeated questions from MPs on all sides of the House.

"The Prime Minister now needs to confirm that this White Paper will be published in time to inform the Article 50 process, and that it will clear up the inconsistencies, gaps and risks outlined in her speech."
Related Topics:
Sharp Increase in British Jews Applying for Portuguese Citizenship after Brexit*
Brexit: 2 Minute Pound Crash 'Suspicious' Says Bank of England*
Legal Documents in High Court Case Reveal anti-Brexit Strategy*
E.U. Blocks Brexit with a €25bn Debt*
Leaked E.U. Document Reveals Plans for Superstate after Brexit*
Brexit Hit the Perpetrators of Fukushima Meltdowns*
U.K.'s PM Bans Ministers Talking to the Media*