Trump Sends Secret FBI Task Force to Stage False Flag, Blame Vets at Standing Rock*
By Gordon Duff
Editor's note:  Veterans from around the country have returned to oppose the senseless and dangerous Dakota Access pipeline, predicated on the economic insanity that low quality oil that costs $66 to pull out of the ground can be profitably sold for $35, with Donald Trump a prime investor in the project and Energy Transfer Partners a major backer of the GOP.
Now Trump has sent an FBI Counter-Terrorism task force to investigate veterans groups and infiltrate them.  We strongly suspect that FBI agents/assets/informants brought bomb making material with them, illegal weapons, and are building a case for Trump to make himself a national hero by staging a false flag terror event.
Shame on Vietnam War draft dodger, Donald Trump.
By Sam Levin
The FBI is investigating political activists campaigning against the Dakota Access pipeline, diverting agents charged with preventing terrorist attacks to instead focus their attention on indigenous activists and environmentalists.
The Guardian has established that multiple officers within the FBI's joint terrorism taskforce have attempted to contact at least three people tied to the Standing Rock "water protector" movement in North Dakota.
The purpose of the officers' inquiries into Standing Rock, and scope of the task force's work, remains unknown. Agency officials declined to comment. But the fact that the officers have even tried to communicate with activists is alarming to free-speech experts who argue that anti-terrorism agents have no business scrutinizing protesters.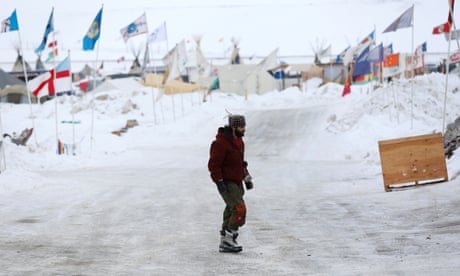 Two of them were contacted in North Dakota and a third at their home outside the state, according to Regan. She said all three contacts were made in recent weeks after Trump's inauguration.
Trump, a former investor in Energy Transfer Partners, the Texas-based firm behind the pipeline, took executive action in his first week in office to expedite the project. On Wednesday, workers began drilling to complete the pipeline across the Missouri river.
The JTTF revelation comes at a time when there have been increasing concerns at Standing Rock about law enforcement surveillance, police violence and the targeted arrests and prosecutions of activists.
Since the summer, law enforcement officials have made roughly 700 arrests, in some cases leading to serious felony charges and possibly lengthy state prison sentences. Following recent indictments, at least six activists are now facing charges in federal court. Rumours about JTTF have caused further stress among the activists.
Regan said she was able to confirm the identity of one of the JTTF officers, Andrew Creed, who attempted to contact an activist. Reached by phone, he declined to comment to the Guardian, saying, "I can't talk to you" before hanging up.
An FBI spokesman, Jeffrey Van Nest, also declined to answer any questions, saying: "We're not in a position to provide a comment as to the existence of an investigation."
In November, a JTTF officer also showed up to the hospital room of Sophia Wilansky, a 21-year-old who was seriously injured during a standoff with law enforcement at Standing Rock, according to her father, Wayne Wilansky. The FBI took her clothes and still have not returned them, he said in an interview this week.
Wayne said he suspected that the FBI brought a terrorism agent given that local police had alleged that activists set off an explosion that caused his daughter's injuries. Witnesses have said they believe she was hit by a police concussion grenade.
The timing of the FBI hospital visit in Minneapolis was upsetting, he added. "It was especially disturbing, because Sophia's blood pressure was going up. She was about to be wheeled into surgery."
Police have repeatedly painted the anti-pipeline movement as dangerous, which is why JTTF may be involved, Regan said.
"From the very beginning, local law enforcement has attempted to justify its militarized presence … by making false allegations that somehow these water protectors were violent."
The attorney said it also seemed likely that JTTF may have contacted other water protectors and said she worried they may not have realized their best option is to remain silent and contact a lawyer.
This is not the first time the JTTF has been tied to an investigation of civil rights protesters. Records from Minnesota suggested that the taskforce monitored a Black Lives Matter demonstration.
For indigenous leaders who have vowed to continue fighting the pipeline on the ground, the FBI investigations and ongoing federal prosecutions have become increasingly worrisome. It's particularly troubling to some given the U.S. government's history of aggressively targeting Native American protesters and turning them into political prisoners.
"This is history repeating itself," said LaDonna Brave Bull Allard, who founded the first camp opposing the pipeline.

"I keep on thinking, how we did come to this point? … When did Americans lose their rights? When did America stop following the law?"
Brandy-Lee Maxie, a 34-year-old Nakota tribe member from Canada, said it's difficult not to worry about possible prosecution. But the cause, she said, is too important to give up:
"I'm staying here. Whatever happens to those who stay happens. We've just gotta keep praying."
Related Topics:
DAPL Approved a Week After Co-Owner's Pipeline Spilled 600,000 Gallons of Oil in Texas*
U.S. Authorities Now Allowed To Kill Citizens by Firing Squad*
Buffet, Gates Foundation, Bono's RED and the Dakota Access Pipeline
Army Corps Clears Way for DAPL Construction*
Trump Blocked From Addressing U.K. Parliament for 'Racism and Sexism'*
Standing Rock Sioux Speak Out Following Violent Removal of Water Protectors*
Standing Rock Sioux Tribe's Message to Water Protectors and Allies*
Call on Feds to Consult with Tribes, Follow the Rule of Law before Moving Forward on Oil Pipeline*
UC Berkeley Cancels Appearance of White Nationalist, Trump Responds with Threat to Cut School's Funding*
Jury Finds Eight #NoDAPL Protectors Guilty*
Jury Refuses to Convict Activist for Shutting Down Pipeline*
Seattle Council Votes to Divest Billions from Wells Fargo over DAPL Support*
U.S. Army Corps Told to Clear Way for DAPL Construction*