Qur'an is Wise to Ancient Satanic Conspiracy*
David Livingstone reveals that Kabbalists are singled out in the Qu'ran as instruments of an ancient occult conspiracy.
The Qu'ran dates from the Seventh Century, indicating mankind has suffered from this plot for millennia.
Today the Satanists are pitting Christians against Muslims, using migration and false flag terror, eliminating two birds with one stone.
Most Christians are too credulous to even recognize that their real adversary is the Illuminati, a Masonic (Kabbalist) Jewish cult which controls government, business and culture.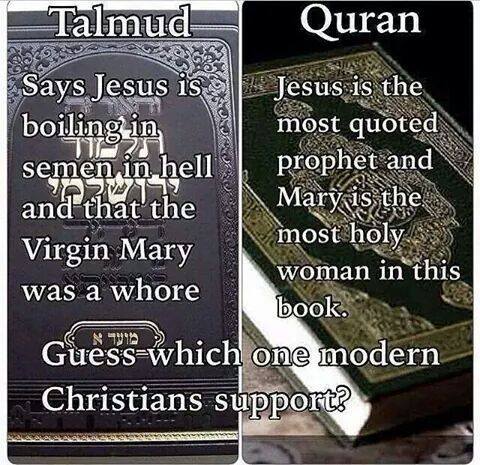 Muslims & Conspiracy Theory
By David Livingstone
Despite the Muslims' tendency to dismiss the substantial role played by the occult and secret societies as paranoid, it is from the Qur'an that we are provided with the crucial clue which helps us identify the Luciferian origin of the Kabbalah, when it is mentioned:
When a messenger was sent to them [the Jews] by God confirming the revelations they had already received, some of them turned their backs as if they had no knowledge of it. They followed what the demons attributed to the reign of Solomon. But Solomon did not blaspheme, it was the satans who blasphemed, teaching men magic and such things as were revealed at Babylon to the angels Harut and Marut. …They learned from them the means to sow discord between man and wife [love magic, feminism]. But they could not harm anyone except by God' s permission. And they learned what harmed them, not what benefited them. And they knew that the purchasers [of magic] would have no share in the happiness of the hereafter. And vile was the price for which they sold their souls, if they but knew. [2:102]
Essentially, the message of the Qur'an is clear and repeated. Starting with the sixtieth verse of Surat Al-Muddathir, one of the earliest chapters of the Quran to be revealed:
Nay! For lo! He [man] has been stubborn to Our revelations. On him I shall impose a fearful doom. (Self-)destroyed is he, how he planned!  Again (self-)destroyed is he, how he planned!  [74:16-20]
Or
Behold this is the Word that distinguishes (Good from Evil):  It is not a thing for amusement.  As for them, they are but plotting a scheme, And I am planning a scheme. [86:13-16]
And, importantly:
And thus have We [God] made in every city the elite to be its guilty ones, that they may plan therein; and they do not plan but against their own souls, and they do not perceive. [6:123]
But you have to fight fire with water. We should not combat the conspirators out of vengeance for being wronged. According to the Quran:
"The good deed and the evil deed are not alike. Repel the evil deed with one which is better, then lo! he, between whom and you there was enmity (will become) as though he was a bosom friend." [41:34]
God will judge the conspirators. As for us, we should forgive them in our hearts while opposing their actions. Like Jesus said, "God forgive them, for they know not what they do." Only love can conquer hate. That is the true message of God's message as it has been revealed through the centuries.
As the Quran says, on the Day of Judgment, the masses will blame the elite for having been misled by the "conspiracy" carried out against them. But they will be responsible for their own wrongs:
Those who were oppressed will say to those who were arrogant, "Rather, [it was your] conspiracy by night and day when you were ordering us to disbelieve in God and attribute to Him equals." But they will [all] confide regret when they see the punishment; and We will put shackles on the necks of those who disbelieved. Will they be recompensed except for what they used to do? [34:33]

 

And following are numerous examples from the Quran emphasizing the central fact of a conspiracy hatched by God's enemies, usually using a word translated into English as "plot" or "plan": Nay! For lo! he hath been stubborn to Our revelations. On him I shall impose a fearful doom. (Self-)destroyed is he, how he planned!  Again (self-)destroyed is he, how he planned!  [74:16-20]
And they (disbelievers) plotted [to kill 'Iesa (Jesus) ], and God planned too. And God is the Best of the planners. (3:54)

 

If good touches you, it distresses them; but if harm strikes you, they rejoice at it. And if you are patient and fear God , their plot will not harm you at all. Indeed, God is encompassing of what they do. [3:120]

 

Those who believe fight in the cause of God , and those who disbelieve fight in the cause of idolatry. So fight against the allies of Satan. Indeed, the plot of Satan has ever been weak. [4:76]

 

And they say: (It is) obedience; but when they have gone forth from thee a party of them spend the night in planning other than what thou sayest. God recordeth what they plan by night. So oppose them and put thy trust in God. God is sufficient as Trustee. [4:81]
They may hide (their crimes) from men, but they cannot hide (them) from God, for He is with them (by His Knowledge), when they plot by night in words that He does not approve, And God ever encompasses what they do. [4:108]

 

And were it not for God's grace upon you and His mercy a party of them had certainly designed to bring you to perdition and they do not bring (aught) to perdition but their own souls, and they shall not harm you in any way, and God has revealed to you the Book and the wisdom, and He has taught you what you did not know, and God's grace on you is very great. [4:113]
O you who believe! Remember the Favour of God unto you when some people desired (made a plan) to stretch out their hands against you, but (God) withheld their hands from you. So fear God. And in God let believers put their trust. [5:11]
Satan's plan is (but) to excite enmity and hatred between you, with intoxicants and gambling, and hinder you from the remembrance of God, and from prayer: will ye not then abstain? [5:91]
——
Related Topics:
This Week the 'Arch of Baal' Was Displayed For the Third Time in Honour of 'The World Government Summit'*
Putin on the Declining Values of the West and Rising Practice of Satanism
School Forced to Allow 'After-School Satan' Club or Face Costly Lawsuits*
Mustering the Emotional and Spiritual Maturity to Face the Satanic Cult*
Dajjal and the New World Order
Spirituality in the New World Order is a One World Religious Authority*
Financing the New World Order*
G20 Meets In China To Fight Anti-Globalism and Usher In New World Order*
Has Pope Francis Removed Every Single Member of the Vatican Pro-life Academy*
U.S. World Population Control Programme Revealed Creates War and Famine*