Trump Orders Drone Strike on Syrian Mosque, 40 Civilians Killed*
The Russian Defense Ministry has urged a comment from the U.S. after photos of a purported U.S. missile fragment found in the rubble of a bombed Syrian mosque emerged online. The Pentagon denies that their forces hit the mosque.
"A photo showing a fragment of an air-to-surface AGM-114 Hellfire missile has emerged. It leaves no chance for the US-led coalition to remain silent as usual and for diplomats to spout anti-Russian rhetoric," Major-General Igor Konashenkov said Friday.
US admits strike on 'Al-Qaeda meeting' in Syria amid reports of deadly mosque attack nearby

Russia is expecting the Pentagon to comment on the deadly airstrike on a mosque in Syria's Aleppo province, where at least 40 civilians were feared killed overnight into Friday, March 17.
"I think we should expect comments from the U.S. partners anytime soon," Konashenkov noted.
The news of the strike was broken by the U.K.-based Syrian Observatory for Human Rights and the White Helmets activists who shared the first pictures from the scene. Some news outlets were quick to lay the blame for the attack on Moscow or Damascus.
Tragic mistakes that claim lives of civilians do happen at war, the Russian spokesman said, however adding that "before releasing anti-Russian false stories, they [media sources] should do their job as professionals by thoroughly studying the facts and getting to the bottom of things."
READ MORE: Russia accused of US strike in Syria: '80 percent of MSM stories on Mideast wars is fake news'
There is no doubt the U.S. missiles were intended for terrorists, Russian Foreign Ministry spokeswoman Maria Zakharova said on Friday.
"We have no doubt that the U.S. forces were aiming at terrorists," Zakharova said.

"Unlike some of our opponents, we are not going to blame them for 'intentional' killing of civilians and destruction of infrastructure," she noted, adding that there is still a need to understand what really happened in Al-Jinah.
The authenticity of the photo supposedly showing a metal piece of a missile with a serial number inscription is yet to be confirmed.
Photo shows the remnants of a bomb used in the airstrike on the 'Umar ibn Al-Khaṭṭāb mosque in the rebel-held village of al-Jinā, w-Aleppo. pic.twitter.com/aGsqMjcWIJ
— Sakir Khader (@sakirkhader) March 16, 2017
Russian and Syrian forces, as well as the U.S.-led coalition air powers are known to be conducting operations in the affected area.
The U.S. admitted to targeting a building located next to the mosque where an Al-Qaeda meeting was allegedly taking place, noting that the mosque itself was not hit, Pentagon spokesman Captain Jeff Davis said, showing an image of the targeted building.
Davis added that there were no civilian casualties.
"We did not strike nor did we hit the mosque that was within 50 feet of the half of the building that we struck where a meeting of Al-Qaeda in Syria was taking place," said CENTCOM spokesman Colonel John Thomas, according to AFP.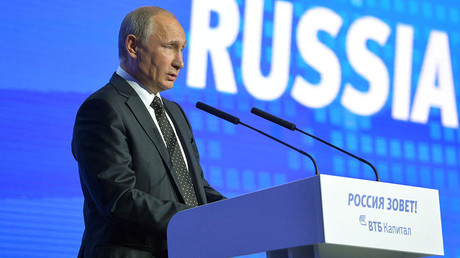 Putin: We know who destroyed aid convoy in Aleppo, Syria

U.S forces "targeted an Al-Qaeda gathering across the street from a mosque," Major Josh T. Jacques, media operations chief at the U.S. Central Command Communication Integration, told RT in a statement.
"We did not target, nor did we strike a mosque… The mosque does not appear to be damaged following the strike. We are aware of the reports of civilian casualties and we are looking into it," Jacques said.
Jumping to unverified conclusions and laying the blame on Moscow and Damascus by several news outlets these days is "common practice," Ammar Waqqaf, political analyst specializing on the Middle East, told RT.
Waqqaf doesn't think that the relatives of the dead civilians will see any justice, saying that it's also a "common practice" that was seen in Yemen, Afghanistan and Pakistan, and the U.S. will attempt to get out of the incident "as clean as possible."
"You will have collateral damage, the problem is that it was prayer time and a lot of people should have been expected to be gathering in that particular mosque," Waqqaf said.
Related Topics:
Syrian Air Defense Shoots Down one of 4 Israeli Warplanes Targeting Military Site near Palmyra*
Public Buses in Aleppo take to the Streets after 5 Years of U.S.'s ISIS war on Syria*
U.S. Deploying Thousands More Ground Troops to Kuwait to Fight in Iraq and Syria*
U.S. Marines Invade Syria, helping ISIS and Turkey*
Trump-Israel Struggling to Save ISIS to divide and Conquer Syria and Iraq*
Syria's Water Cut off by Turkey Following McCain, Erdogan Meeting*
Aid Shipments Arrives in Lattakia from Armenia and Syrian Communities in Italy*
"E.U. has been supporting the terrorists in Syria from the very beginning"*