It Took a Nine-year-old Muslim Boy 35 Seconds to Rumble Theresa May*
By James Wright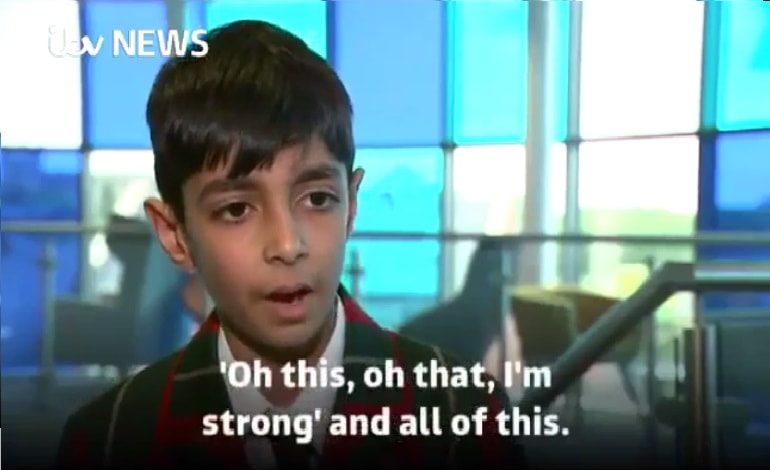 It looks like even nine-year-olds can see through Theresa May. On ITV News, Hasnain Nawaz questioned the sitting Prime Minister's 'strong and stable' sloganeering and called on her to "actually do something":
Weak and wobbly?
Nawaz specified that he is not "following" May. In a display of raw, childhood common sense, he pointed out that May's rhetoric does not match her actions:
"She's not really doing anything to be honest, all she's saying is 'oh, this, oh, that, I'm strong,' and all of this.
Well she's not really doing anything by saying all of that is she?"
ITV invited Nawaz on the show after he asked Jeremy Corbyn a question about "strong and stable leadership" in Peterborough. He also explained why he felt "inspired" by Corbyn:
"He helps the homeless. Everyone talks about needing to help the homeless, well Jeremy Corbyn does it. School education… he does it all for me"
By contrast, May wants to take away free school meals for primary school pupils like Nawaz. She will replace them with breakfast, which amounts to another cut of £650m per year. Meanwhile, the Institute for Fiscal Studies (IFS) confirmed reports from teachers and parents that the Conservatives are bringing the  'deepest cuts' to education for 30 years.
Joining Nawaz, a BBC Question Time audience member also hit out at the lack of substance in the Conservative campaign. The audience member said he'd bet his wife £10 that Work and Pensions Secretary Damian Green would say "coalition of chaos" and "strong and stable government" during his first contribution. It might be the easiest £10 he's ever earned.
Robot rhetoric
The Conservative campaign indicates that his wife was up against terrible odds. During an interview with Radio Derby, Theresa May epitomised this. Host Chris Doidge asked the Prime Minister if she knew what a 'mugwump' was. Boris Johnson had used the word to personally attack Jeremy Corbyn earlier that day. Then, like a robot, May responded:
"What I recognise is that what we need in this country is strong and stable leadership."
The collective face-palm was tangible. Journalists from The Sun and The Guardian alike expressed utter disbelief. The mindless catchphrase only highlights the Prime Minister's inability to defend her party's record:
Even nine-year-olds can see through May's electioneering. From pretending opposition parties are blocking Brexit, to scapegoating E.U. interference in the election, almost all of the Conservatives' movements amount to naked electioneering. Brexit is happening. It's about what type of country we want to build outside the E.U. A civil meritocracy where everyone has the opportunity to succeed through universal education, healthcare and housing. Or a rigged economy where we rent our essential services from the already rich. Nawaz hasn't reached double figures yet, but he gets it.
Related Topics:
U.K PM to Create New Internet that would be Controlled and Regulated by Government*
U.K. PM Bows to Pressure to Spell out 'Brexit Plan' Details*
U.K's New PM a Very Jewish Coup*
U.K's New PM's Husband is a Senior Executive to an Investment Fund that Profits from Tax Avoiding Companies*
Theresa May Alone in the Trump Debate U.K. Parliament Unites to Send its own Message*
Criminal Investigation Into U.K. Conservative Government*
Young Mothers are going Hungry so their Children can Eat in Theresa May's Britain*
Jeremy Corbyn Accused of Being Russian "Collaborator" for Questioning NATO Troop Build-Up on Border*
The U.K. Establishment Toppling the Opposition, Jeremy Corbyn*
Corbyn Triumphs as Cameron Fears Failure to Achieve Mandate on Invading Syria*
Corbyn Keeps his Promises to his Constituents, even if it means keeping the Queen Waiting*
Reality of British Empire should be taught in Schools – Corbyn*
Corbyn Turns PMQs into the People's Question Time, and Cameron Flounders*
Why Corbyn Gained the Unlikely Support of Business*
U.K. Brexit Election 08 June 2017*