Muslimah Conceives Using Frozen Pubescent Ovarian Tissue and Gives Birth*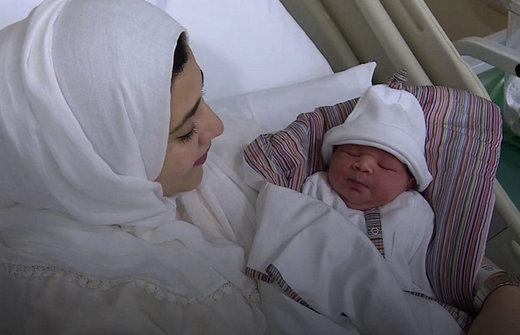 A London woman is believed to be the first in the world to give birth with the help of ovarian tissue that was frozen before she reached puberty. The tissue was removed from her body ahead of chemotherapy treatment needed to treat a blood disorder.
Moaza Al Matrooshi gave birth to a healthy baby boy on Tuesday, but her path to motherhood wasn't easy.
The 24-year-old was born with beta thalassaemia, an inherited blood disorder that is fatal if left untreated. She needed chemotherapy as a child, which damages the ovaries, before receiving a bone marrow transplant from her brother.
At the age of nine, long before most girls are faced with reproductive decisions, Al Matrooshi had her right ovary removed in an operation in Leeds, where the tissue was frozen.
The ovary remained frozen until last year, when surgeons in Denmark transplanted five slivers of the tissue back into her body. Four were stitched onto her failed left ovary, and one onto the side of her uterus, according to the BBC.
Although Al Matrooshi had gone through menopause as a result of her blood-disorder treatment, her hormone levels began returning to normal following the procedure, and she began ovulating with her fertility restored.
"Within three months of re-implanting her ovarian tissue, Moaza went from being menopausal to having regular periods again," Dr. Sara Matthews, who was involved in the procedure, told the BBC.

"She basically became a normal woman in her 20s with normal ovary function."
She underwent in vitro fertilization (IVF) with the help of her husband Ahmed to maximize the chances of having a child. Three embryos were produced from eight collected eggs, two of which were implanted earlier this year.
The result was a bouncing baby boy, delivered at London's Portland Hospital on Tuesday.
"We've been waiting so long for this result – a healthy baby," Al Matrooshi said.
Doctors believe the breakthrough will give hope to other girls and young women who face infertility as a result of treatment for cancer, blood, or immune disorders.
"This is a huge step forward. We know that ovarian tissue transplantation works for older women, but we've never known if we could take tissue from a child, freeze it and make it work again," Matthews said.
Related Topics:
U.K.'s Home Office wants to ID Pregnant Women*
Miracle of Pregnancy: Couple Told to Abort or Die*
Pregnant and Brain-dead, yet Forced to Incubate a Fetus*
Hope for Womanhood as Non-Muslims Sympathize with Attacked Pregnant Muslimah
The Growing Problem of Pregnancy Stroke
Abortion Survivor to Congress – 'I was Born Alive after Being Burned in My Mother's Womb'*
Yaz and Yasmin, the Birth Control Pills that can Kill*
Giving Birth to a Child Artificially
Reclaiming the Birthing Process
Mother's Love brings Life back to her Son Two-Hours after Pronounced Dead!*