Australians Rally against Kicking the Indigenous off their Own Land*
Thousands of protesters rallied in Australia's two largest cities Friday against government plans to forcefully shut down Indigenous communities.
Indigenous elder and activist Jenny Munro said the rallies were a "call to arms" to all Australians.
"This is about the community being made aware about the truth of what goes on in this country," she told progressive news website New Matilda.
Munro joined thousands of other protesters in Sydney who marched from Belmore Park to the Redfern Aboriginal Tent Embassy. In a statement issued online, march organizers said they were both frustrated by plans to redevelop the Block – a chunk of the suburb of Redfern earmarked for affordable Indigenous housing.
Activists say the very organization charged with providing affordable housing – the Aboriginal Housing Authority (AHC) – is now trying to gentrify the area with commercial office blocks and student accommodation at the expense of Indigenous residents.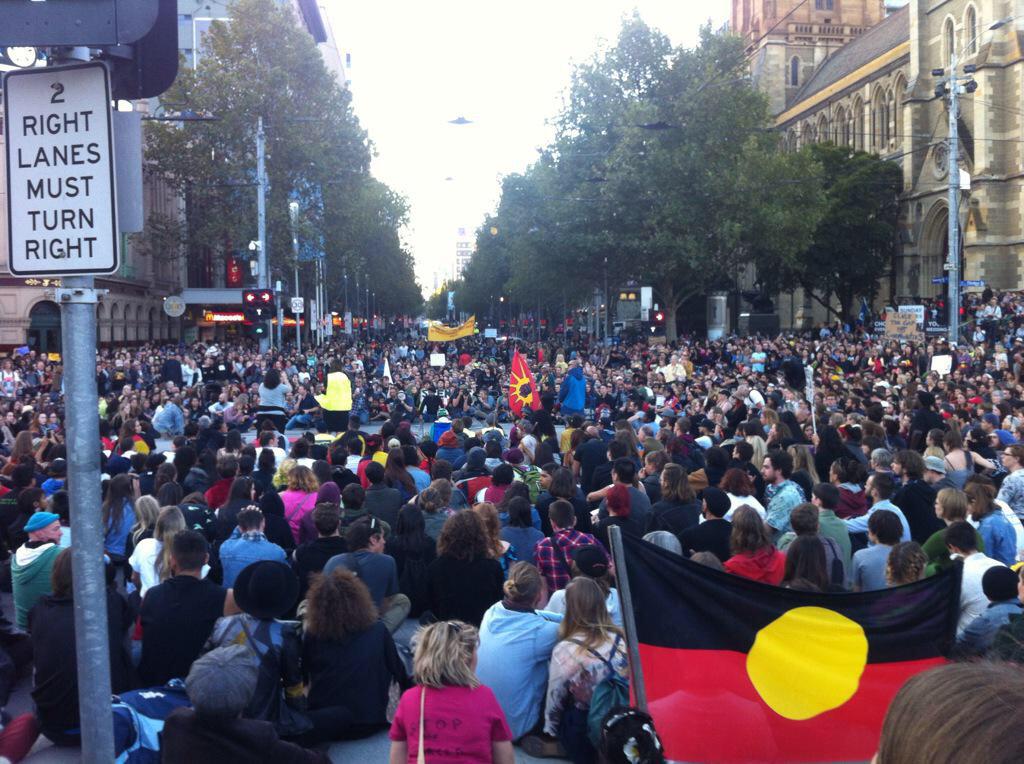 However, march organizers said Indigenous communities aren't just being "broken up" in Redfern, but rather across all of Australia.
"We will be marching in solidarity with brothers and sisters in (Western Australia) staring down the imminent threat of withdrawal of essential services to once again force Aboriginal people off their lands," they stated.
A second march against the proposed closures also took place in Melbourne. The rally began near Flinders Street station, where protesters held a traditional smoking ceremony.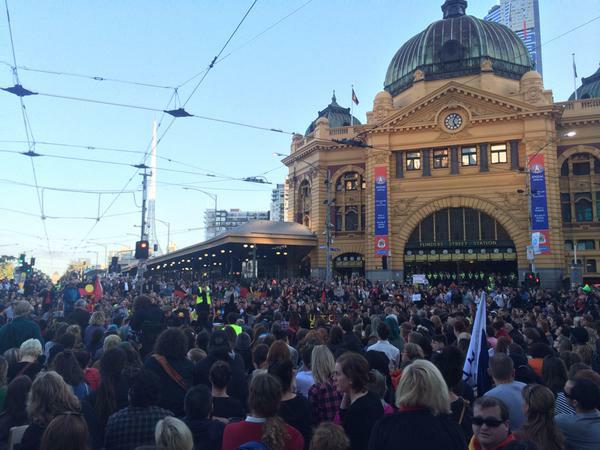 As many as 150 remote Indigenous communities in Western Australia could be scuttled after both the state and federal government claimed they couldn't afford to provide municipal services.
Prime Minister Tony Abbott has backed the decision, arguing Indigenous Australians living in remote areas are living a taxpayer-funded "lifestyle."
Comment: Who invaded who?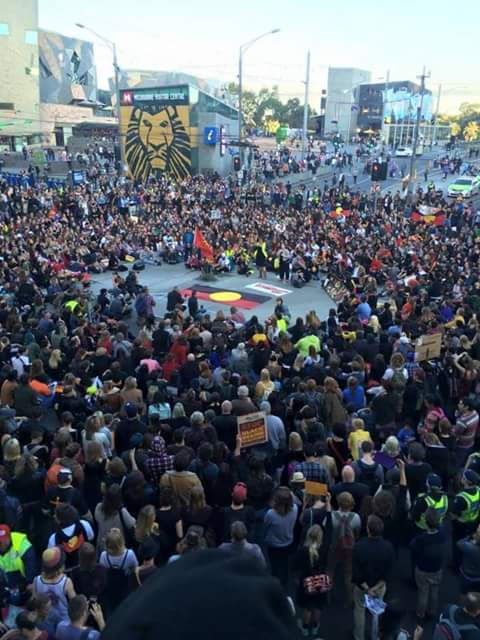 Speaking to teleSUR earlier this month, Indigenous community organizer Jodie Bell warned wholesale community closures isn't just about cost-cutting.
"It's about assimilation – many non-Indigenous people cannot fathom or understand the Indigenous connection to country," Bell told teleSUR.

"And because they do not understand it, they trivialize it and think they are helping people by moving them off country."
Bell also dismissed Abbott's characterization of remote communities as a "lifestyle choice," explaining,
"Our spiritual and cultural life is intricately linked with our country."

"We have fought hard in the past 30 years to regain the ability to live in our country following years of displacement as a result of government policies," Bell said.

"We will not move, we cannot move."
Related Topics:
Australia Discontinues Services to the People Whose Land It Took*
Yeah.. Dumping nuclear waste on Indigenous Australian Land Would Increase their Living Standards*
Australia: When Recognition Means the End for the Indigenous
Australia: Deceit by Assimilation!
Evict 120 Bedouins from their own Land and Build a Trash Dump Instead*
Sisi's offer of Kicking People out of their Own Land Welcomed by Israel*
Canada Forcing the Indigenous to Give Up their Land*
A Ruling that Highlights Indigenous Love of the Land and Canada's Destruction of It*
Senegal Farmers Tell Transnational Corporations to get off their Land*
Tanzanian Maasai Villagers Win Fight for Information about Land-Grabs and Forced Eviction*
Land-Grabbing: Targeting the Sioux Indian Reservation*
The Guaraní Continue the Fight for their Land and Human Rights*